Infusing ideas and life through lumps of clay can be really fascinating for maker and onlooker alike. As a kid of five, Malini remembers longingly looking spell bound at artisans' works, wondering if the clay would be as pliable when she tries her hand at the wheel. "Forbidden to play in the mud, let alone enjoy at the Marina beach, I earned the displeasure of my dad, a strict disciplinarian and stickler for cleanliness, who resented my entering home with mud patches on my legs, as it would make the home dirty" she sighs.

Malini's passion for mud and clay stuck on. "Seems like a dream come true after four decades" she says smilingly.
Malini, who is also the founder of Artistic Pottery Training Academy conducts workshops at many places.
Shel also provides an overview of each step of preparing the clay and its composition. You can let your imagination fire and create Art ... your own Art under her able guidance. A potter's success in moulding the clay according to his/ her visualization, would, to a large extent, depend on its texture, composition and proportion used. That apart, the firing process using a kiln at the right temperature gets the desired result.
Pottery as an art has unlimited potential in creativity. You too can make these wonderful art pieces like this by learning pottery
Face Masks, Murals, Photo frames, Cup 'n' Saucers, Birds nest, artistic pencil and pen holders, etc etc.. the creative potential for pottery is unlimited.
Animals in Pottery - by Malini Kalyanam
Candles for Hope - Pottery by Malini Kalyanam
Photo frames in clay - by Malini Kalyanam
More beautiful creations..
Faces of Clay - Malini's pottery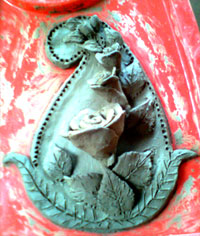 One of the many creations by our students